Kiln Theatre presents
Wife
by Samuel Adamson
Sold Out
"I don't believe that I'm nothing but a daughter and a wife and a mother. I'm a human being"
It's 1959. Daisy is at a crossroads. Married to Robert but in love with Suzannah, her moral compass tells her to go one way, society the other. What she chooses to do next will have consequences for generations to come.
Samuel Adamson (The Light Princess National Theatre, All About My Mother Old Vic) uses Ibsen's A Doll's House to explore the institution of marriage from 1959 over the course of ninety years and its impact on those branded 'Wife'. This celebration of the transformative power of theatre is directed by Kiln Theatre Artistic Director Indhu Rubasingham.
Important Information
Age Guidance: 14+
Sold Out
Duration
Approx. 2 hours 25 minutes (including interval)
★★★★ 
Gloriously as camp as Christmas: think 'The Hours', but with killer putdowns.
Time Out
★★★★ 
Alive, endlessly curious, inventively staged
The Guardian
★★★★ 
A funny and clever homage to Ibsen's A Doll's House. The very idea of theatre's power and political substance is ripe for debate.
Evening Standard
★★★★ 
Exuberant eccentricity and crackerjack intelligence. A play for today. And yesterday. And tomorrow. 
WhatsOnStage
★★★★ 
 This play which is obedient to the original while breaking free from it, is frankly inspiring.
The Daily Telegraph
★★★★ 
Adamson's writing is full of life.
Metro
★★★★★
Bold, challenging theatre 
The New European
★★★★★ 
Ambitious, intelligent and genuinely very witty play. This is an outstanding and utterly essential new piece of LGBTQ+ theatre – not to be missed.
Gay Times
★★★★
A wise, skilful and intricately patterned piece of writing, delivered with snap and wit
Financial Times
★★★★★
Theatre Weekly
★★★★★
LondonTheatre1
★★★★
The Stage
★★★★
Daily Express
★★★★
A Younger Theatre
★★★★
Broadway World
★★★★
London Theatre
★★★★
The Arts Desk
★★★★
Ham and High
Creative Team
Samuel Adamson
Writer
Indhu Rubasingham
Director
Richard Kent
Designer
Guy Hoare
Lighting Designer
Alex Caplen
Sound Designer
David Shrubsole
Composer
Diane Alison-Mitchell
MOVEMENT DIRECTOR
Breman Rajkumar
ASSISTANT DIRECTOR
Sarah Bird
CASTING DIRECTOR
Daniele Lydon
VOICE COACH
Cast
Richard Cant
Peter/ Ivar at 58/ Landlord
Richard Cant's theatre credits After Edward, Edward the Second (Shakespeare's Globe), Maydays, Hamlet, Much Ado About Nothing (RSC), Saint Joan (Donmar Warehouse), My Night with Reg (Donmar Warehouse/Apollo Theatre), Medea (Almeida Theatre), The Trial (Young Vic), War Horse (New London Theatre), Salome (Headlong), Troilus and Cressida, Cymbeline (Cheek by Jowl), Original Sin, The Country Wife (Sheffield Theatres), Other People (Royal Court Theatre), Pera Palas (Gate Theatre), The Canterbury Tales (Garrick Theatre) and Charley's Aunt (York Theatre Royal). His television credits include Taboo, Outlander, Bleak House and The Way We Live Now; and for film, Mary Queen of Scots, Stan & Ollie, Sparkle, (Past Present Future) Imperfect and The Lawless Heart.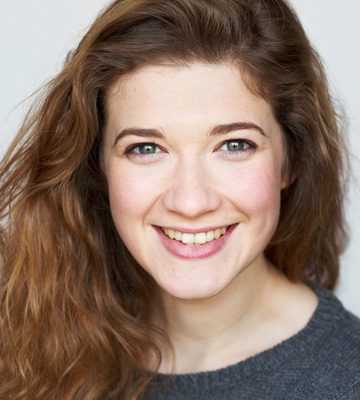 Karen Fishwick
Daisy/ Clare
Karen Fishwick's theatre credits include Romeo and Juliet, The Merry Wives of Windsor (RSC), Our Ladies of Perpetual Succour (Edinburgh Festival Fringe/UK tour/National Theatre/Duke of York's Theatre – Olivier Award nominated for Best Supporting Actress), Glasgow Girls (Citizen's Theatre), Caucasian Chalk Circle (Royal Lyceum Theatre), Dirt Under the Carpet (Òran Mór), Hello, Dolly!, Present Laughter, A Chorus of Disapproval, Lady Windermere's Fan, Whisky Kisses, The Yellow on the Broom, The Admirable Crichton and Mr Bolfy (Pitlochry Festival Theatre). Her television credits include Badults.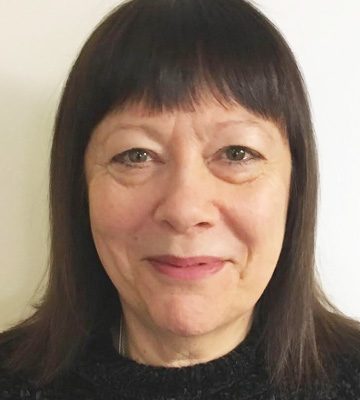 Pamela Hardman
Character Actress/ Marjorie/ Embassy Assistant
Pamela Hardman's theatre credits include North by Northwest (Bath Theatre Royal/Royal Alexandra Theatre, Toronto), The Dresser (UK tour/Duke of York's Theatre), Taken at Midnight (Theatre Royal Haymarket), Mother Clap's Molly House (National Theatre/Aldwych Theatre), It Run's in The Family, Funny Money (Playhouse Theatre), An Inspector Calls, Noises Off, Talking Heads, Lettice and Lovage, Equus, Quartet and Single Spies (UK tour).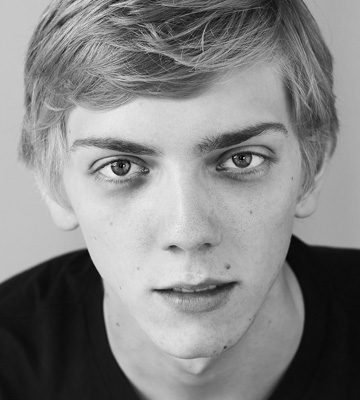 Joshua James
Robert/ Finn/ Ivar at 28
Joshua James' recent theatre credits include: Lady Windemere's Fan (Vaudeville Theatre) King Lear (Shakespeare's Globe), Life of Galileo (Young Vic), Platonov/The Seagull (National Theatre), Here We Go (National Theatre), Light Shining In Buckinghamshire, Treasure Island (National Theatre);The War Has Not Yet Started (Theatre Royal Plymouth); Here We Go (National Theatre); Fathers And Sons (Donmar Warehouse) and Bring Up The Bodies/Wolf Hall (Royal Shakespeare Company); The Ritual Slaughter of Gorge Mastromas (The Royal Court); Gabriel (Shakespeare's Globe); The Tempest (Shakespeare's Globe); No Quarter (The Royal Court) and Love and Information (The Royal Court). Film credits: Darkest Hour, Criminal and Summer in February. TV credits: Raised By Wolves, Absentia, Black Mirror, McMafia, Utopia, Whites, Silent Witness and Identity.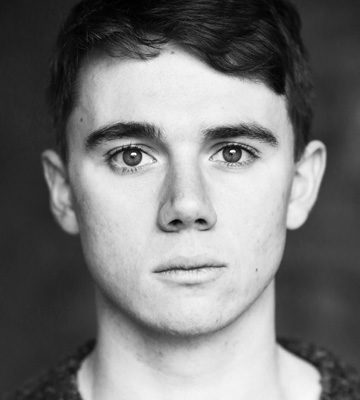 Calam Lynch
Eric/ Cas
Calam Lynch's theatre credits include Much Ado About Nothing (Rose Theatre Kingston). His television credits include Derry Girls and Mrs Wilson; and for film, Dunkirk.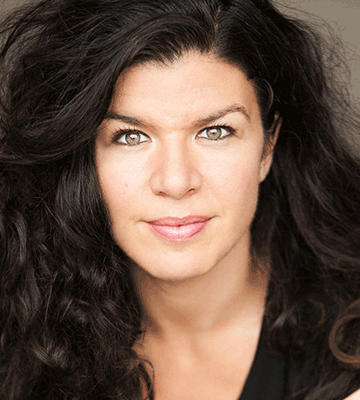 Sirine Saba
Suzannah
Sirine Saba's theatre credits include The Winter's Tale, King Lear, Holy Warriors, Anthony and Cleopatra (Shakespeare's Globe), Goats, The Crossings Play, Fireworks, The Rise and Fall of a Lebanese Pop Princess (Royal Court Theatre), Why it's Kicking off Everywhere (Young Vic), The Intelligent Homosexual's Guide to Socialism (Hampstead Theatre), Another World, Nation (National Theatre), The Invisible (Bush Theatre), Next Fall (Southwark Playhouse), The Winter's Tale (Regent's Park Open Air Theatre), The Keepers of Infinite Space (Park Theatre), The Fear of Breathing (Finborough Theatre), Testing The Echo (Tricycle Theatre) and Baghdad Wedding (Soho Theatre). Her television credits include Unforgotten and Footballers Wive$: Overtime; and for film, I Am Slave.
Dates and Tickets
TICKETS
30 May – 1 June & Wednesday matinees
£10, £15, £21, £27.50
3 June – 6 July (excluding Wednesday matinees)
£12.50, £20, £26, £32.50
Evenings: 7.30pm
Wednesday & Saturday matinees (from 8 June): 2.30pm
CONCESSIONS
Student, Equity, Unemployed & Brent Residents
£2 off Band A and B on Mon – Thu Performances
Seniors
£2 off Band A and B on Mon – Wed Matinee Performances
Access Concessions
£2 off all price bands on Mon – Thu Performances
Young Kiln (under 26)
£10 tickets across the run, any seat. To book your tickets sign up as Young Kiln or log in to your account
ACCESS
Captioned: 20 June 2019 (the best view of captions is from the front row of the stalls)
Audio Described: 4 July 2019 (the infrared hearing system is strongest from rows C-J of the stalls. Please do not book for rows A or B of the stalls if you intend to make use of Audio Description.)
Pre-show touch-tour before the Audio Described performance on 4 July at 6pm
POST-SHOW DISCUSSION
Taking place on 18 June & 2 July
Check back soon for more details about the subject of the discussion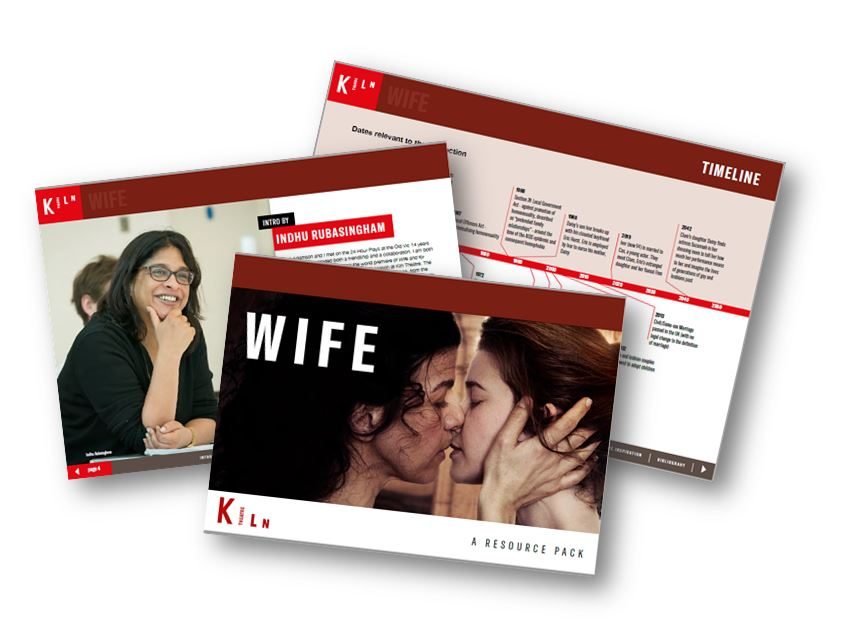 TEACHER RESOURCE PACK
ENHANCE YOUR SCHOOL'S VISIT WITH OUR FREE TEACHING RESOURCE
Download our free Wife resource pack offering exclusive access and insight into the creation of the production, perfect to use both before and after your school's visit.
Developed with teachers, these resources cover topics provoking discussion about the staging, themes and narrative of the production – long after the final curtain.